SOC-2 Compliance with Terraform
Keep your production SOC-2 compliant.
Get full audit reports for your infrastructure with zero effort.
Distinct Separation Between Dev and Prod
SOC-2 compliance requires a clear distinction between development and production environments.
ControlMonkey Namespaces provides clear separation between different environments and buissness units.
Authorization Required for Changes in Prod
In accordance with SOC-2 requirements, any alterations to production must be assessed and approved by a secondary individual, known as an Authorized Reviewer.
ControlMonkey makes setting up this process straightforward and efficient with its CI/CD solution.
Gathering Proof of Compliance
During your SOC2 audit, it's crucial to have documentation showcasing your organization's adherence to its policies.
ControlMonkey conveniently stores this evidence for you, enabling a swift and efficient audit process.
Automated Evaluation of Change Requests
SOC-2 requires a thorough review of change requests to ensure compliance with security, confidentiality, and availability policies.
With ControlMonkey's preventive policies, you can review and block any non-compliance proposed changes.
Share Compliant Blueprints
Enable other teams to spin up compliant infrastructure by sharing with them Terraform blueprints.
If it's not compliant – no one can spin it up.
In this video, you can see ControlMonkey's CI/CD pipeline. 
Each infrastructure change is inspected against your compliance rules, including simulating the deployment's effect on cloud accounts.
The pipeline demonstrates using Git repositories as the single source of truth for infrastructure, along with auditing changes, linters, security frameworks, cost estimation tools, policy enforcement, and blast radius minimization.
Read more related to this solution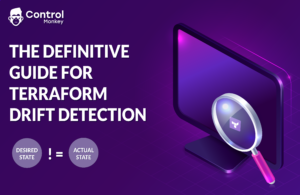 blog
Having a drift detection mechanism is crucial for your cloud management strategy. In this blog post, we explore the reasons for infrastructure drift, methods for
Read More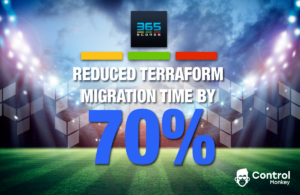 Harnessing ControlMonkey capabilities, 365Scores cut short their migration project by 70% and saved countless hours of error-prone and labor-intensive DevOps hours.
Read More